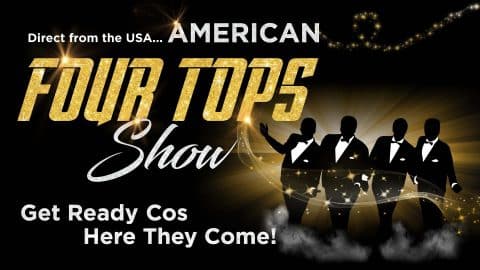 AMERICAN FOUR TOPS MOTOWN SHOW
Showing on Sat 24 Feb 2024
Running time: 1 hours 50 minutes
AMERICAN FOUR TOPS MOTOWN SHOW
Get Ready Cos Here They Come!
THE ONLY "AMERICAN" TRIBUTE TO THE FOUR TOPS TOURING THE UK!
Direct from the USA, Soul Satisfaction appear live in concert performing the AMERICAN FOUR TOPS Motown Show bringing all the sweet soul music and the Motown magic to their audiences.
With powerful vocals, splendid harmonies and the high stepping dance routines, you will be taken on a journey through all the hits of the Four Tops, Reach Out, Baby I Need Your Loving, Walk Away Renee, Same Old Song, Loco in Acapulco, Standing In the Shadow, Bernadette along with other classic hits from the golden era including songs from the Temptations, Smokey Robinson and the Miracles, Marvin Gaye, Ben E King and many more Motown and soul legends. This show is untouchable- an exciting authentic American experience!
You will be dancing all night long!
One of Motown's most legendary songwriters Eddie Holland, from Holland-Dozier-Holland team, responsible for all of the Four Tops greatest hits said
" This group is incredible, one of the most professional and the tightest vocal group that I have seen - and I have seen many groups in my time!" Eddie Holland
This is a night you won't forget!

Soul Satisfaction guaranteed!
So Reach Out and…Get Ready Cos Here They Come!