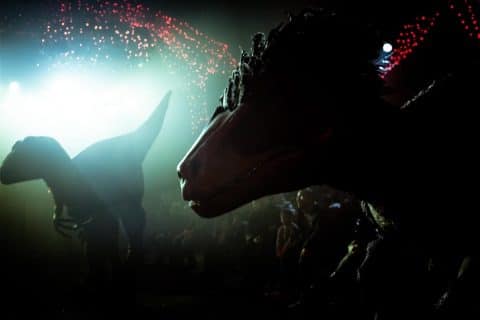 Teach Rex LIVE – Velociraptor
Showing on Sat 17 Feb 2024
Teach Rex uses life-like dinosaurs to perform their 45-minute show, teaching children about the anatomy and life of one the most mesmerizing creatures that have ever roamed our planet. The show is teamed with effects, music and gives children and their families the chance to get up close and personal with these fantastic, realistic beasts.

The new show will delve into the jaws of one of the most iconic dinosaurs to ever roam the world, the VELOCIRAPTOR. Delivered by primary school teachers, the team will take the audience on an interactive, prehistoric journey, pinpointing misconceptions surrounding the velociraptor and the audience will learn how this iconic beast would have actually looked. Meet various Velociraptors and the only fully feathered velociraptor in the WORLD amongst others, giving the audience a realistic insight into these fascinating creatures.

The 1hr show is suitable for children of all ages and has even proven to be extremely popular with adults. The show is followed by a dinosaur meet and greet when families can get photographs next to the beasts whilst enjoying a dance.

Children will be greeted by baby dinosaurs and given a 'Dino Booklet' which includes a variety of educational activities. All that is included in the price of a ticket, in this educational experience delivered by teachers.