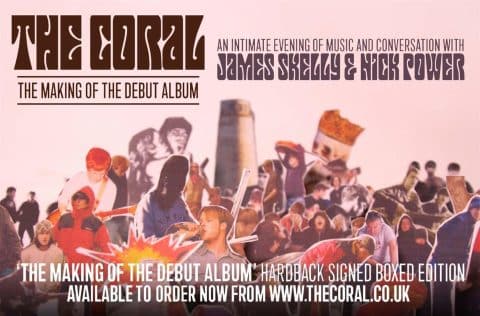 The Coral – The Making Of The First Album
Showing on Sat 20 Apr 2024
Running time: 1 hours 40 minutes
The Coral
The Making Of The Debut Album: An Intimate Evening of music and conversation with singer James Skelly and keyboardist Nick Power

The Coral are celebrating the 21th anniversary of their eponymous debut album. The record was described by NME as being the funniest and most refreshing British debut in years. In this intimate evening, singer and songwriter James Skelly will be joined by keyboardist Nick Power for an evening of conversation, audience questions and acoustic songs. The Coral's eponymous debut remains a totemic release. Sonically unique, wilfully leftfield and thrillingly eclectic, The Coral combined psychedelia with dub, disco groove with pop and ragtime with Egyptian reggae on a remarkable debut that has proved to be timeless. Twenty-one years on, that records still sounds as fresh and remarkable as it did when it was released on 29th July 2002.

ON SALE FRIDAY 24TH FEBRUARY AT 10AM.

Performances
Sat 20 Apr, 2024
7:30pm
From £27.00