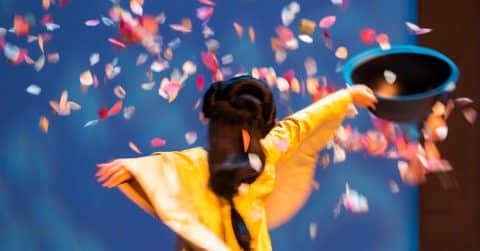 The Royal Opera: Madama Butterfly (12A)
Showing on Tue 26 Mar 2024
Running time: 3 hours 15 minutes
The Royal Opera
MADAMA BUTTERFLY
Live in cinemas: Tuesday 26 March 2024, 7.15pm GMT
Running time 195 minutes (including one interval)
Sung in Italian with English subtitles

Music Giacomo Puccini
Conductor Kevin John Edusei
Directors Moshe Leiser and Patrice Caurier
Set Designer Christian Fenouillat
Costume Designer Agostino Cavalca
Lighting Designer Christophe Forey
Cio-Cio-San Asmik Grigorian
Lieutenant B. F. Pinkerton Joshua Guerrero
Sharpless Lauri Vasar
Suzuki Hongni Wu
Goro Ya-Chung Huang
The Bonze Jeremy White
Prince Yamadori Josef Jeongmeen Ahn
Kate Pinkerton Veena Akama-Makia
Imperial Commissioner Romanas Kudriašovas
Royal Opera Chorus
Orchestra of the Royal Opera House
A co-production with Gran Teatre del Liceu, Barcelona

Synopsis
When the young geisha, Cio-Cio-San, marries American Naval Officer Pinkerton, she believes she is entering a real, binding marriage for life. Forsaking her religion and community, she learns all too late that for Pinkerton, their marriage is merely an illusion – with tragic consequences.
With a score that includes Butterfly's aria, 'Un bel dì, vedremo' ('One fine day') and the Humming Chorus, Giacomo Puccini's opera is entrancing and ultimately heart-breaking. Moshe Leiser and Patrice Caurier's exquisite production takes inspiration from 19th-century European images of Japan. Asmik Grigorian performs the role of Cio-Cio-San, with Kevin John Edusei conducting.