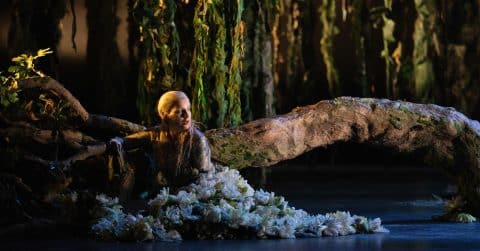 The Royal Opera: Rusalka (12A)
Showing on Sun 28 Jan 2024
Running time: 3 hours 45 minutes
The Royal Opera
RUSALKA
[This production was filmed live in 2022]
Running time 225 minutes (including one interval)
Sung in Czech with English subtitles

Music Antonín Dvořák
Conductor Semyon Bychkov
Created by Natalie Abrahami and Ann Yee
Directors Ann Yee and Natalie Abrahami
Set designer Chloe Lamford
Costume designer Annemarie Woods
Lighting designer Paule Constable
Choreographer Ann Yee

Rusalka Asmik Grigorian
The Prince David Butt Philip
Vodník Aleksei Isaev
The Duchess Emma Bell
Ježibaba Sarah Connolly
Kuchtík Hongni Wu
Hajny Ross Ramgobin
First Wood Spirit Vuvu Mpofu
Second Wood Spirit Gabrielė Kupšytė
Third Wood Spirit Anne Marie Stanley
Lovec Josef Jeongmeen Ahn

Royal Opera Chorus
Orchestra of the Royal Opera House

Synopsis
Rusalka, a water spirit, lives with her family in the pure waters of the forest lake. When she falls in love with a Prince, she sacrifices her voice and leaves her home in the hope of finding true love in a new world – a world that does not love her back.
Natalie Abrahami and Ann Yee create a poetic, contemporary new staging of Dvořák's lyric fairy tale, revealing our uneasy relationship with the natural world and humanity's attempts to own and tame it. Semyon Bychkov conducts an all-star cast featuring Asmik Grigorian (Jenůfa) in the title role.

Performances
Sun 28 Jan, 2024
2:00pm
Matinee